EUR/AUD: Bearish Bias Beneath the Moving Averages
The EUR/AUD, representing the tug of war between the European and Australian economies, has provided traders with some captivating moves on the one-hour chart. Here's our technical breakdown for September 8, 2023:
Recent Price Dynamics
Following two thwarted attempts to scale above the 100-Week Moving Average (WMA), the pair is witnessing an assault on the 1.67298 support level by sellers. This move could be a precursor to further downside momentum.
Potential Bearish Outcomes
Should the sellers cement their dominance, the immediate targets that come into play are:
Persistent bearish fervor could push the price further south, possibly revisiting the one-month low at 1.66475—a level that was probed at the week's onset.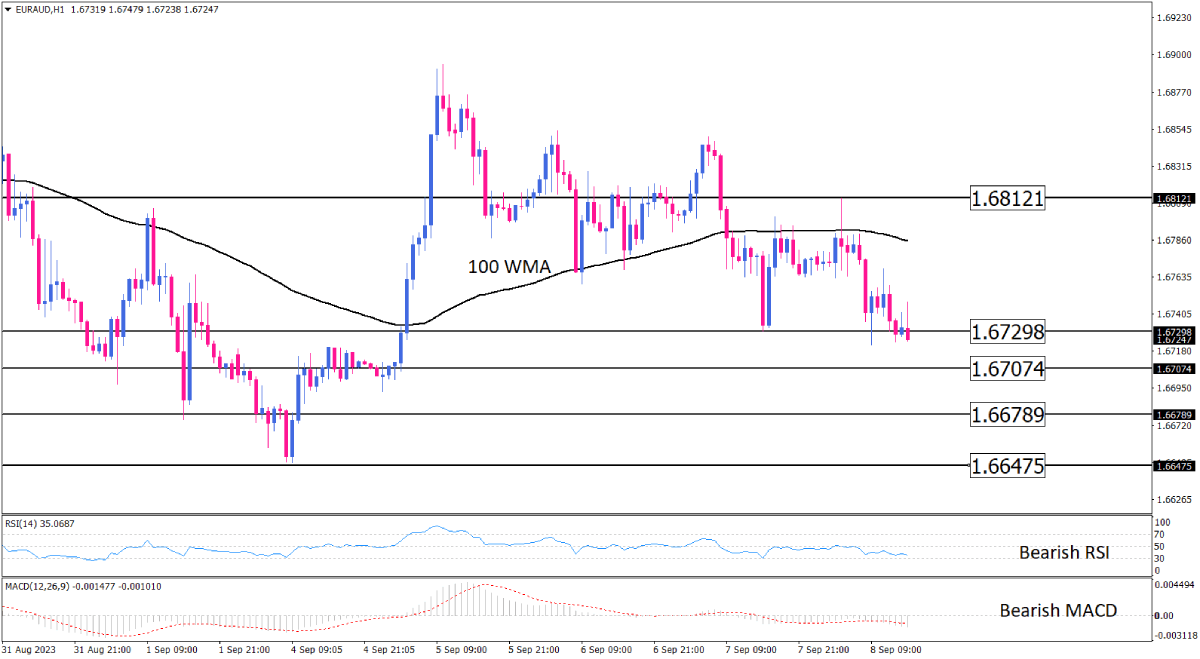 The Bullish Counterpoint – An Alternate View
On the flip side, if the 1.67298 level showcases resilience and acts as a robust support, it could offer buyers a glimmer of hope. This might lead to another attempt to challenge the 100 WMA. However, it's essential to note that unless buyers can firmly plant their flag above this dynamic resistance, the bearish narrative remains dominant.
Oscillator Insights
The Relative Strength Index (RSI) is currently charting its course in the selling territory, endorsing the bearish sentiment prevalent in the market. In tandem, the Moving Average Convergence Divergence (MACD) bars are delving deeper into the negative realm, beneath a negatively inclined signal line. This oscillator behavior aligns with the intensified selling pressure as US markets kick off their Friday trading session.
Conclusion
For September 8, 2023, the EUR/AUD's technical landscape on the one-hour chart leans bearish, with key levels and oscillators echoing the sentiment. Traders should be vigilant, monitoring both the aforementioned crucial levels and global economic cues that could influence the pair's trajectory.
Disclaimer: The above analysis is purely for informational purposes and should not be construed as investment advice. Always consult with a financial advisor before making any trading decisions.