EUR/USD Technical Analysis: Navigating the Long-term Ascending Channel
In the ever-evolving landscape of the forex market, the EUR/USD pair has been a beacon of consistency, maintaining its trajectory within a long-term ascending channel since March 15. However, as we approach the end of August, the pair's journey reveals a tale of two trends.
The Current Landscape:
Despite the overarching ascending channel in a long run, the pair has recently been caught in the grips of an active downtrend. This is evident as it trades below the pivotal 200 and 100 EMAs, consistently sketching lower tops and bottoms on the chart. This downtrend culminated in the pair gracefully touching the lower boundary of the channel early on Friday.
The Bull's Defense and The Bear's Counter:
The bulls, ever resilient, have mounted a defense at the crucial 1.08000 mark, pushing the pair upwards in a corrective move. This upswing has set its sights on 1.08153, and a breach of this level could catapult EUR/USD towards the enticing 1.08430 mark. However, it's crucial to note that while this bullish correction is noteworthy, the broader downtrend remains unchallenged. There's been no significant top breakout to signal a trend reversal.
Should the bears regain their vigor and the selling pressure intensify, we could witness the pair sketching another lower top, potentially driving it back to retest the 1.07663 mark, aligning with the lower line of the channel.
The RSI Indicator's Tale:
The Relative Strength Index (RSI) offers a glimmer of hope for the bulls. Emerging from the 30 mark, the RSI suggests that the sellers might be running on fumes. This exhaustion indicates a potential breather, allowing the market to recalibrate and gather strength.
In Conclusion
The EUR/USD pair's journey within the ascending channel for more than five months presents a captivating narrative of bullish defenses, bearish advances, and the constant tug-of-war between the two. As we stand at this crossroads at the edge of the channel, traders and investors alike should keep a keen eye on the aforementioned key levels, ensuring they're well-positioned to capitalize on the pair's next significant move.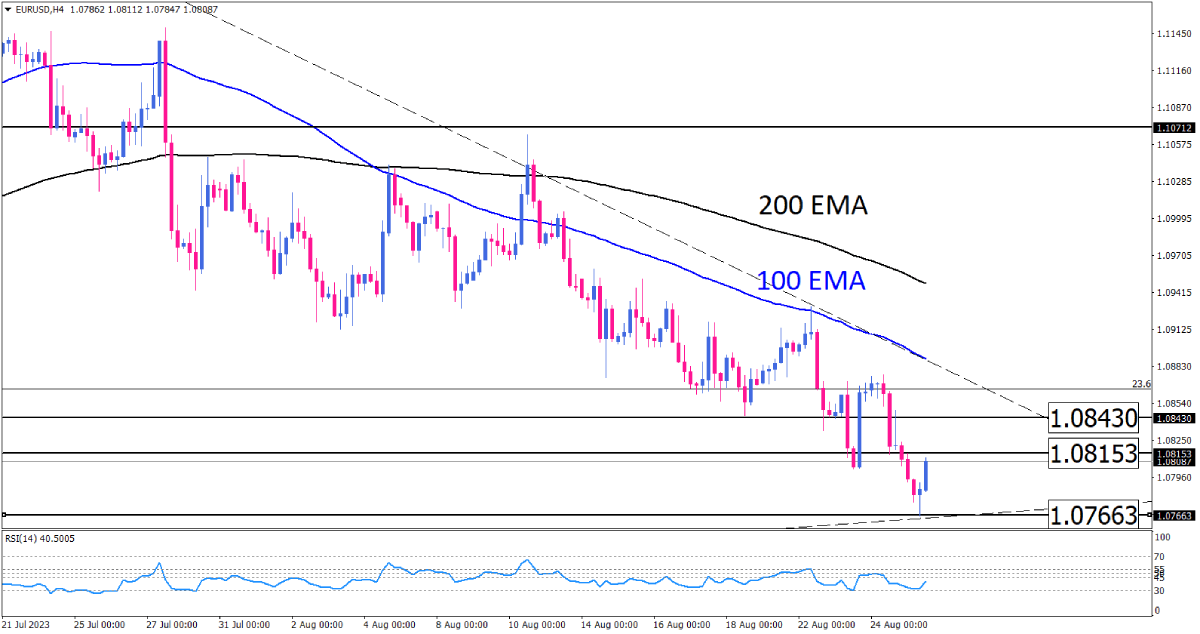 Disclaimer: This analysis, brought to you by the esteemed technical analysis department of our investment bank, is intended for informational purposes. All traders are advised to conduct their research and consult with professionals before making investment decisions.