EUR/CHF: The Swiss Franc's Steely Grip on the Euro
The EUR/CHF, which reflects the dynamics between two major European currencies, has provided traders with a compelling narrative on the daily chart.
Since April 2023, the EUR/CHF has been on a consistent descent. Currently, the pair navigates a tight corridor between the support at 0.95152 and resistance at 0.96028, staying beneath both the 100-Week Moving Average (WMA) and the 50-WMA.
Key Observations
During this bearish phase, sellers have grappled twice to push the price beneath the 0.95152 mark, but they were unsuccessful. Moreover, the 50-WMA has consistently acted as a dynamic resistance, suggesting that the pair's downtrend might be losing momentum. This sentiment is further bolstered by the formation of a descending triangle on the daily chart, a continuation pattern often seen before significant price movements.
Potential Bearish Outcomes
If sellers can summon more momentum and maintain their dominance, a break below the pivotal 0.95152 level could be imminent. Such a breach would signal the downtrend's continuation, with eyes set on immediate targets at 0.94605 and subsequently, 0.94278.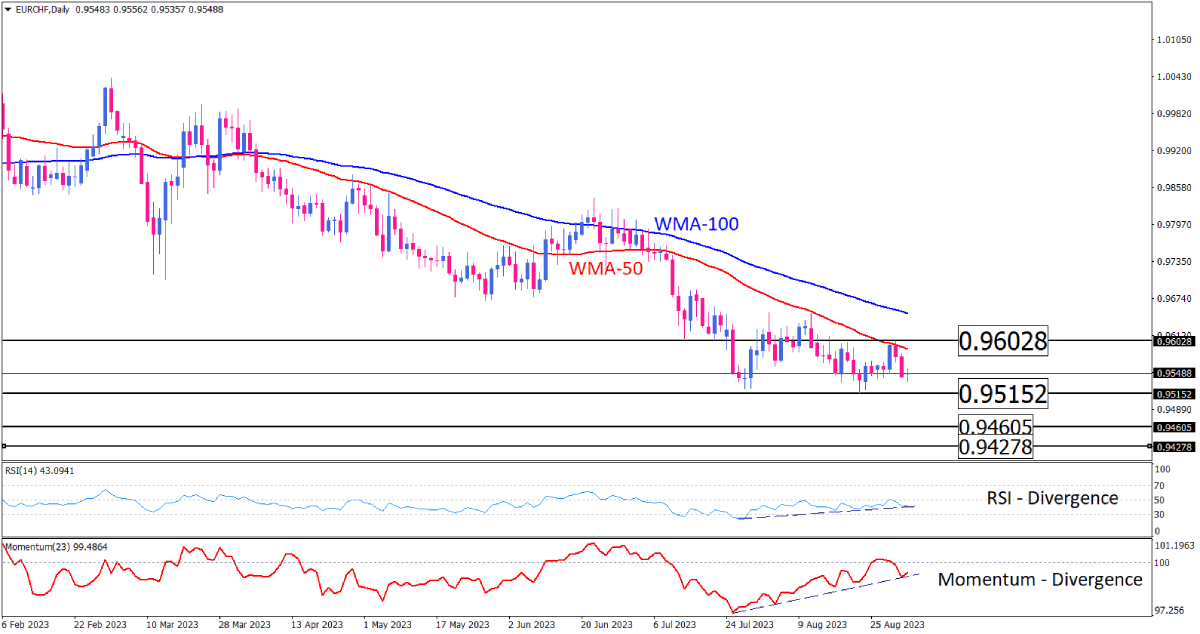 The Bullish Counterpoint
On the flip side, if upcoming speeches from the European Central Bank (ECB) tilt in the Euro's favor, we could see a revival in buying pressure. However, buyers will have to reckon with a formidable resistance at 0.96028, which aligns with the 50-WMA.
Oscillator Insights
Both the Relative Strength Index (RSI) and Momentum oscillators have diverged from the price action, registering higher peaks and troughs. This divergence can often signal potential reversals or a weakening of the current trend.
Conclusion
The EUR/CHF daily chart currently tilts bearish, but there are hints of potential exhaustion in the downtrend. As events unfold, traders should closely monitor the critical levels mentioned and consider integrating macro cues, especially from the ECB, into their analysis.
Disclaimer: The above analysis is purely for informational purposes and should not be construed as investment advice. Always consult with a financial advisor before making any trading decisions.